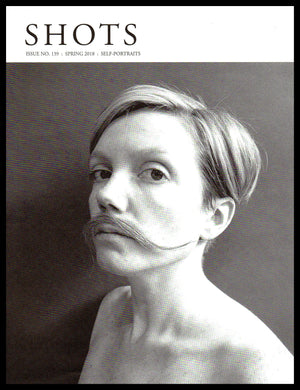 No. 139 - Spring 2018 : SELF-PORTRAITS
Sale price Price $8.25 Regular price
FEATURES:
Artist Interview: Andre Wagner
Emerging Photographer: Diana Nicholette Jeon
Artist Spotlight: Russell Joslin

CONTRIBUTORS:
Cover: Megan Shaughnessy ↪
Main Spread: Rob Verbunt ↪
Back Cover: Nicole Campanello ↪
Yasmin Afrazeh ↪
Jennifer Barry ↪
Kelly Chuning ↪
Cathy Cone ↪
JoAnn Chaus ↪
Margherita Crocco ↪
Inkje Drescher ↪
Esmee Drjiver-Aarbodem ↪
Jesse Farrah ↪
Connie Gardner Rosenthal
Ann George ↪
Ali Gradischer ↪
Margaret Grosspietsch ↪
Anita Hamremoen ↪
Tamar Haytayan ↪
Khandaker Huda ↪
Katharine T. Jacobs ↪
Brittany Juravich ↪
Candi Kalinski ↪
Amy Kanka Valadarsky ↪
Paul Kessel ↪
Virginia Kluiters ↪
Žilvinas Kropas ↪
Celeste Marten ↪
Jim McKinniss ↪
David Oxton ↪
Hal Padgett ↪
Claude Peschel Dutombe ↪
Lina Prokofieff ↪
Beatriz Rodrigues Szikora ↪
Michelle Rogers-Pritzl ↪
Joshua Sarinana ↪
Miss Tracy Sharpe ↪
Loren Stuart ↪
Daryl Tebbutt
Aurora Teo Shi Yun ↪
Monica Tiulescu ↪
Lisa Toboz ↪
Norma Van Der Horst ↪
______________________________________________________
ARTIST INTERVIEW: Andre Wagner ↪
-Interview by Douglas Beasley
Andre Wagner (self-portrait) © Andre Wagner
 Andre Wagner is a rising star of the photo world. His compelling images range from street portraits on the subway to fashion photos for the New York Times. His work is film based and prints are made in the darkroom. On his website it says "Wagner avoids the overtly documentary approach but is committed to a kind of rigorous photographic surface. He has a specific passion for visual literacy and photo sequencing and values the power images have to inform and enrich one another. Individually, each photograph is an independent moment in time; as a collection, a narrative is built, guided not by linear time but by emotion." We were lucky enough to catch up with him and ask him a little about himself and how he developed as an artist.
DOUGLAS BEASLEY: What was your introduction to photography?
ANDRE WAGNER: My freshman year of college I thought I would sign up for some easy classes and I saw photography on the list. After the first class I quickly realized that I had made a mistake. This was in 2006, so it was a black and white darkroom course making the photos from start to finish. I wasn't very interested in the class and hardly passed, but I did get a mechanical/chemical foundation in photography then.
You have a BA in Social Work. Did you study photography formally or in school? Where? How was that experience for you?
Many years after my photography course I became interested in photo again. I then discovered serious photographers and work and realized that my own practice could be informed by my interest in social justice. At this point I was pursuing getting my MSW, ultimately only finishing half the program because I decided I was going to be a photographer.
You were born in Omaha, NE but now live in Brooklyn NY. Does geography play a role in your work?
It does, not in a sense that I can only photograph in NY, but more so psychology and intellectually. But being from Omaha, going to college in Iowa, and now living in NY, I've experienced a range of people and ways of doing things. Now that I'm working in NY I also have to deal with my personal past history. In a way, I'm trying to work it all out with a current body of work that I'm creating. I think there is a lot more to come on this topic. What motivates you?
I'm a very competitive person, I played college basketball and have always loved to compete and push myself. I'm motivated by seeing how hard I can work to achieve something. I'm motivated to tell my story through photography. I'm motivated to make complicated, soulful, and compelling photographs. I'm motivated by how far I've come in life and where I'm trying to go.
What aspects of photography are difficult or challenging for you?
The making of the photograph is the most difficult. Everything is unplanned and life is constantly in flux. I'm just always trying to be prepared when it all comes into alignment.
Who were your early influences? Who are your influences now?
Gordon Parks had a huge influence on me when I first got started. I was more interested in his journalism than his fashion work, I think his journalism helped me understand how my background in social work could be useful. I've never really wanted to work as a "photojournalist" per se, but his work gave me a guide on how I would go out and make my own work on my own terms. Now days I'm looking at Santu Mofokenf, Liz Johnson Arthur, Garry Winogrand, and Louis Faurer- photographers who may use the "photojournalism" aesthetic, but the way they operate is more of a private affair. Work that's not controlled by assignments. I'm also influenced by a lot of things outside of photography, I love jazz.
Did you ever have a mentor? What was that like? Was it important to your development?
I didn't have any mentors when it comes to photography. I've always wished I did but at the same time maybe I wouldn't have had the discoveries that have been so important to me. By not having a mentor I've learned really quickly that I had be my toughest critic, and I think that only works by knowing what great work is already out in the world, and by believing in yourself and the process of failure. I do a lot of reading about the history of photography and love to study work. Being informed is important. What are your artistic fears?
That the message in my work will be lost if I'm not clear enough. But I'm a photographer so I want the message to come across and be clear in the images, not so much my words. I see you have been doing some fashion type work for the NY Times. What has that experience been like?
Yes, for the NY Times and a few other publications as well. It's always a great challenge because my daily practice of photography is about entering the world with no structure and making something out of nothing. It's challenging for me to make photographs that are planned out, but I love a challenge. Walking around with a camera all day over and over can get lonely, so it's nice to change things up as well. How do you keep developing and growing as an artist?
I look at a lot of work, at shows and in books. I like to read. I like to go days without looking at my phone. I try and just live in the moment. Sometimes as humans our mind will be racing about a million things and we miss out on the beauty all around us. I fight turning into a robot.
What does success mean to you?
I would love to be able to pay all of my bills on time, own a house and not worry about having enough film to support my work ethic. But other than the money I feel so free and happy now. I'm living my life the way I want to and making the work that I want to make. I'm just trying to keep it going. ■
______________________________________________________
EMERGING PHOTOGRAPHER: Diana Nicholette Jeon ↪
-Interview by Douglas Beasley
CLOCKWISE FROM TOP LEFT: Volume II. #4: The Wind and the Sky, Volume I. #3: The Snow and the Watcher, Volume II. #3: The Sea and the Forest, Volume II. #2: The Girl and the Hotel
All images © Diana Nicholette Jeon
Diana is a multi-disciplinary artist based in Honolulu, Hawaii. She has had quite a busy year so far with numerous features, exhibits and publications featuring her work. Diana finds unique ways of presenting her photography, which I thought SHOTS readers would appreciate. The photos we chose for this issue were placed inside of Altoids tins, giving them a very unusual, yet because of their small size, very intimate feel.
DOUGLAS BEASLEY: What was your introduction to fine-art based photography?
DIANA NICHOLETTE JEON: I don't know if I ever had something as formal as an introduction. My dad had attended the School of the Museum of Fine Arts in Boston. He was an extremely talented metal sculptor who could take a flat sheet of copper, and make it into an exact 3-d likeness of any given person. Although he did not practice as an artist during my lifetime, he maintained his lifelong love of all things art. He would take my sister and me to the museum several times a year. He subscribed to the photography magazines of his day, of course, Life, too. (Who didn't?) He used to use his camera to take pictures of family, but he was usually going for a more arty shot, and I used to listen to him describe to other adults why he shot something as he looked through the negatives and prints that came back from FotoMat. So, I think it was just something that was always there, like air and breathing.
How and why did you start exploring alternative processes?
I had always wanted to do them, and when I was in grad school at UMBC from 2003-06 I got the chance to learn from Chris Peregoy, who was on my thesis committee and is a master, literally, of all things photo. I learned to modify cameras, which gave me to courage to attach lenses to my iPhone in the current day. I learned to make digital negatives, and to do Cyano, Van Dyke and Salt, plus some things like a motion film made entirely of liquid light work. Now, without a studio or a darkroom, my explorations here are left to wax, mixed-media, and transfers.
How did you come across the idea of using Altoid tins for your tintypes? Did it take a while to achieve success printing them?
This might seem dumb, but I started working with them because I was mad at the restrictions one show was putting on work. I felt like they were saying, "Work MUST be matted with X borders in a frame and it must be a high-quality frame, hence we would like to suggest you use such and such place," got me upset. Because first, not everyone can afford the top of the line framing, and second, because not all works fit into a traditional presentation. So, I set out one night to make something that would not. The tins emerged as a venue because they spoke to the ideas of how people collect memories. I wasn't very confident about this work, but it got a great reception overnight, when Paula Tognarelli asked to put one in the Griffin for the new Artist Book Initiative. Most feedback on these has been positive, though some reviewers from Critical Mass felt they were too close to others working with tins. Personally, I disagree, because my reason for using wax and tins was specifically tied to the ideas of dreams and memories. But there it was. I will continue using tins as I build this series out more. For other work, I would use them only if they fit the ideas of the content. I am, however, really interested in the mana of materials, so will continue to explore ideas in alternative presentation for projects as it suits any given one.
What are your artistic fears?
My greatest one was always that my work would never get any attention, that it would not make it into any important collections. A few years back, that changed when the State of Hawaii bought two of my works from a local juried exhibition. What's funny is that it took me another year and a half to realize, "You have met your goal! Your goal was to have your work live somewhere where other people would see it, beyond your lifetime. You did it! Everything, and I mean everything else beyond this, is gravy on that. Just keep going."
Has living in Hawaii influenced your photography? If so, how?
Yes. The colors here affect my outlook, sometimes I embrace them and sometimes I choose to negate them entirely, so as not to look so "postcard-y." But also, I think sometimes it has just been affected by the cultural values here, too. Ways of looking at culture by locals is different than someone from the mainland looks at the same issues. That comes out in the work, both in the look and the ideas.
How do you keep developing and growing as an artist?
Usually I look at a LOT of work, and I do both online videos on techniques, and online classes or videos on ideas. Laura Valenti's classes have been helpful to me, because they are concept-based rather than content, she is willing to give tough feedback if you ask for it and are ready for it, and her classes are very affordable. Living in HI is expensive, so there are financial barriers that keep me from attending many of the openings to meet people that way, or taking classes with people where the cost is out of my budget and the venue does not offer financial aid.
Anything else I should ask you but haven't?
Yes. What would I tell my younger self? And I would say, "You keep going, keep making. The teacher arrives when the student is ready. The student gets ready by doing. That perseverance and belief in yourself will be your greatest asset." ■
______________________________________________________
ARTIST SPOTLIGHT: Russell Joslin ↪


Russell Joslin (self-portrait) © Russell Joslin
Russell was the publisher, editor, mail room clerk at SHOTS for 16 years. His unique vision brought the magazine a long way in that time. It has taken us a small team of folks to do what he did all by himself for issue after issue. And he did it with style and grace. But Russell is not just an editor and publisher. Before SHOTS he was a photographer and still is. His bold self-portraits were in the front of the magazine in many issues. I always loved seeing them. I wanted to honor his major role in the development of SHOTS Magazine by featuring him in this, our first self-portrait issue.
     Russell has new book of images out, culled from his years at SHOTS titled "Series of Dreams". They are all images from other photographers he chose from various SHOTS magazines. I recommend you pick up a copy soon. Through the photographic works of others, it shows his vision and style.
 —Douglas Beasley / Publisher