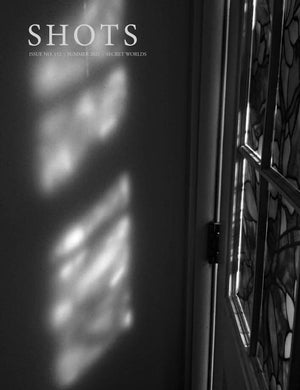 No. 152 - Summer 2021 : SECRET WORLDS
Sale price Price $10.00 Regular price
Thank you SHOTS SPONSORS!


FEATURED PHOTOGRAPHER: Josephine Sacabo [Link]


cover Evan Plunkett: Putney, VT
evanwilliamplunkett.com
back cover Yvonne Dalschen: Oakridge, TN
yvonnedalschen.com
page 3 Andi Alexander: Grinnell, IA
andialexander.com
14 Kevin Bacher: Eatonville, WA
sensualight.com
6 Allan Barnes: San Jose, CA
36 Philip Bonyata: Genoa City, WI
genevalifestyles.com
30 Natalie Caro: Trinity Beach, Qld, AUS
nataliecaro.com
33 Agostina Cerullo: London, UK
agostinacerullo.com
15 Larry Chait: Chicago, IL
larrychait.com
10 Sinden Collier: Houston, TX
sindencollierphoto.com
 1, 31 Max Cooper: Candler, NC
maxcooperphoto.com
35 Niels Coppes: Arnhem, Netherlands
nielscoppes.nl
23 Donna Dangott: College Station, TX
ddangott.com
39 Ron Evans: Charlottesville, VA
41 Jo Fields: Nashville, TN
jofieldsphotography.com
9 Ellen Giamportone: Los Angeles, CA
ellengiamportone.com
20 Rob Haff: Hiawanassee, GA
hafflight.com
22 Kip Harris: Indian Harbour, Nova Scotia
kharrisphoto.com
34 Kristy Belle Headly: San Francisco, CA
kristyheadly.com
12 Mike Herburger: Parker, CO
mikeherburger.com
8 Richard C. Johnson: Duluth, MN
38 Kent Klaudt: San Francisco, CA
kentklaudtphotography.com
19 Pieter de Koninck: Santa Monica, CA
pdekoninck.com
28 Lodiza LePore: Bennington, VT
18 Dana Marsy: Grand Rapids, MI
24 Paul Matzner: Milwaukee, WI
paulmatzner.com
26-27 Tanya McGeever: Cardiff, Wales, UK
tanyamcgeever.com
16 Raheleh Mohammad: Cleveland, OH
rahelehmohammad.com
43 Mark O'Brien: Weaverville, NC
randomphoto.blogspot.com
12 Abby Raeder: Weston, VT
abbyraeder.com
21 Kathryn Reichert: Branchburg, NJ
kathrynreichert.com
7 Leslie Rosenthal: Pasadena, CA
leslierosenthal.com
13 Madelynne Scales: Astoria, NY
madelynnescales.com
25 Mark Sluder: Huntersville, NC
marksluderphotographs.com
17 Maxine Small: Surrey, UK
maxinesmall.co.uk
4-5 Eugene Szolis: Davie, FL
29 Sarah Treanor: Akron, OH
streanor.com
3 John Wagner: Phoenix, AZ
wagnerphotographs.com
37 Karey Walter: Marietta, GA
kareywalter.com
42 Juhong Xia: London, UK
@xiajh_sodom_o
32 Ivaylo Yorgov: Sofia, Bulgaria
ivayloyorgov.myportfolio.com
 __________
FEATURED PHOTOGRAPHER: Josephine Sacabo

Interview by Elizabeth Flinsch
ELIZABETH FLINSCH: When did you discover photography and what drew you to it?
JOSEPHINE SACABO: I actually discovered photography by accident, or fate, if you will. My husband and I were living in London doing theatre in the winters and in the summer we would drive our old Deux Chevaux (French jalopy) to a small village in the south of France where we had purchased a 'house' for $1500 that we were trying to make habitable. We had let a friend stay with us and he had left behind a 35mm Pentax. I found it in a cabinet and decided to ask our neighbor - who it turns out was an English photographer who had been Cartier Bresson's assistant and also had a tiny dark-room in his kitchen - to show me how the camera worked. I had never taken a photo before that. So he showed me how to load it and shoot and sent me out to shoot my first roll of 35mm film. Then he insisted I had to learn how to develop and print my own contact sheet. From the moment I saw those images coming up slowly in the developer I was hooked and haven't looked back since. Since I couldn't move into my friend's kitchen forever, my husband put in a 'darkroom' in our bathroom, which was a wooden slab attached to the wall over the bathtub that we could retract when we needed to bathe. I bought a used enlarger and some chemicals and trays from a store in Montpellier which was the nearest city and then I was photographing and printing non-stop. My friend would come over every afternoon and critique the images so I had a one on one masterclass for several months and got my basics down pat.
I visited your New Orleans studio in 2018 and the wonder of the space took my breath away. Can you describe your studio and how it came to be?
My studio is my 'happy place.' I had another fabulous studio in the French Quarter, which I also loved, where I shot several of my projects until my landlord informed me that he was going to renovate the space and use it himself. So out I went on a moment's notice. I had paid a very low rent - $300 per month and knew there was no possibility of finding something in the Quarter again for such a cheap price. So I drove around in the adjacent neighborhood called the Marigny looking for 'for rent' signs. A block away I spotted a beautiful old brick warehouse and thought how great it would be to find a place like that and as I slowly drove past it I saw a 'for sale by owner sign' with a phone number in the window. I slammed on the breaks and called the owner who opened the door for me. It was a furniture refinishing shop and a mess, but also a fabulous largely untouched space full of light. He wanted to sell it because he was getting a divorce so he gave me a good price and the next day he accepted my offer and that was that. I had recently spent a week shooting in Havana, which I loved, so that was the inspiration for the color and the stained glass door. I wanted to create a space for day-dreaming that reminded me of Havana– a space that in and of itself would be conducive to making art and would set a special mood. And it still does that for me every time I walk in the door
How did you choose to pursue the photogravure printing process?
Many of the photos I love from 19th and early 20th century are photogravures and for a long time I was unaware of what the process was, but the look of it always appealed to me. I always wanted the image to look as if it was in or a part of the paper I'd chosen, not sitting on the surface. When I started the prints for my first book UNE FEMME HABITÉE I bought a single weight paper called Document Art because I liked the texture of it and when I put the first print in the developer it looked very strange as it was coming up but I finished it and put it in the fixer. When I saw it in the light it had a beautiful feel to it – exactly what I'd been looking for. When I went to print the second copy I realized I was exposing the negative through the back of the paper! That 'mistake' became the signature look of my work for many years. Then one fine day they stopped making the paper and I was frantic! I used a different paper for a while, but it was not the same. Out of the blue I saw an ad for a two day photogravure workshop at Flatbed Press in Austin Texas and decided to go. When I pulled the paper off the press for the first time I realized that was exactly the look I had been seeking in the darkroom for 30 years. And that was that.
Now that galleries and museums are reopening, are there any exhibition projects you've been working on?
Yes. I have a large show that opened June 5th, 2021 at the Polk Museum of Art in Lakeland, Florida that is all new work, most done during the pandemic. I'm very excited because they are a fabulous museum and create beautiful exhibitions. I won't be present for the opening but we will be doing an in person event in October 2021
Here we see images from your series "TAGGED." Could you tell us more about this series and how it came to be?
This series came about as a way to deal with the anger and sadness I felt every time I either walked or rode my bike from my house in the French Quarter to my studio. The messages I was getting from the graffiti were all insulting, specifically to women. The work I made for TAGGED was basically my rebuttal to the image of women the graffiti was presenting. The following is my artist statement for TAGGED which I think explains it best from my point of view:
'Walking the graffiti gauntlet from my house to my studio I am confronted by a lexicon of rampant misogyny, violence and sexual insults .The messages may be verbal but their effects are visceral. We are being 'tagged' - as hos, bitches, and worse. But I am not that woman
Why have women become the targets of the rage and frustration expressed? Why are women bearing the consequences for injustices they have not committed?
Where are the graffiti messages by women meant for men?
I do not have the answers to these questions, all I have are these images of what it feels like to be a woman walking these streets.
And in this I know I am not alone'.
What photographic communities are you engaged in?
What is it about them that you find fulfilling? I love working with and helping the New Orleans Photo Alliance(NOPA) – a very dedicated group of volunteer photographers who get a lot of young photographers' work seen and promoted since galleries are few and difficult to get into. I also love working in my studio with both photographers and creative writing students from the New Orleans Center For The Creative Arts(NOCCA), a public school for gifted art students. They never cease to amaze me.
Now that galleries and museums are reopening, are there any exhibition projects you've been working on?
Yes. I have a large show that opened June 5th, 2021 at the Polk Museum of Art in Lakeland, Florida that is all new work, most done during the pandemic. I'm very excited because they are a fabulous museum and create beautiful exhibitions. I won't be present for the opening but we will be doing an in person event in October 2021■
All Images © Josephine Sacabo