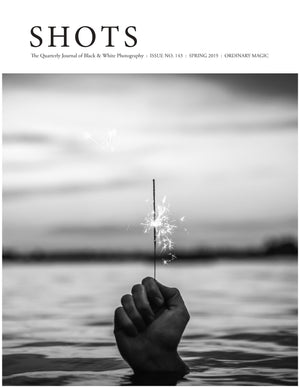 No. 143 - Spring 2019 : ORDINARY MAGIC
Sale price Price $10.00 Regular price
FEATURES:
Featured Photographer ↪: David Morris Cunningham
Emerging Photographer ↪: Asri Bamadhaj
Artist Spotlight ↪: Wayne Levin
CONTRIBUTORS:
Cover: Debbie Shaefer
  Oconomowoc, WI, ordinarycreative.com
Main Spread: Abby Raeder
  Weston, VT, abbyraeder.com
Back Cover: Megan Hatch
  Portland, OR

Natalie Arriola: Valley Village, CA
nataliearriola.com
Dana Ball: Orlando, FL
danaballphotography.com
Jill Booker: Winnipeg, Manitoba, Canada
lensculture.com/jill-booker
Wendy Brusca: Langhorne, PA
@vertigo_violet

Brooke Caudle: Charlotte, NC
Sherri Davis: Port Lambton, Ontario, Canada
sherridavisphotography.com
Jo Fields: Nashville, TN
jofieldsphotography.com
Brian Goodman: Port Townsend, WA
bgoodmanphotography.com
Joy Hart: Lyman, SC
joyhart.net
Jeannie Hutchins: Camden, ME
jeanniehutchins.com
Qian Jin: Beijing, China
qianjinphoto.com
Nancy A. Johnson: Edina, MN
nancyajohnsonphoto.com
Richard C. Johnson: Duluth, MN
Aleksandra Lindus: Samos, Greece
aleklindus.com
Kim McAlear: Ashland, OR

Kate Miller Wilson: Hanover, MN
katenearyphotography.zenfolio.com
Russ Morris: Round Rock, TX
russmorris.com
Wanda Holmes Oliver: Windom, TX
wandaholmesoliver.com
Mélanie Patris: Brussels, Belgium
melaniepatris.com
Jan Roald: Aaselund, Norway
fotojanroald.com
Luca Roberto: London, UK
Joana Rosa: Barcleona, Spain
@art_lajoana
Tommaso Sacconi: Brooklyn,NY
tommasosacconi.com
Debbie Shaefer: Oconomowoc, WI
ordinarycreative.com
Insley Smullen: Savannah, GA
Amanda Sullivan: Winston-Salem, NC
sleepingvision.com
Max Tarcher: Berkeley, CA
mtarcher.com
Darla Teagarden: Austin, TX
darlateagarden.com
Matthew Thorne: Fitzroy North, Victoria, Australia
matthewjjthorne.com
Gabriella Tolin: Patchogue, NY
fotozenmotion.com
Paola Tornambè: Rome, Italy
Merja Varkemaa: Paris, France
merjavarkemaa.com
Farah Marie Velten: Brooklyn, NY
farahmarievelten.com
Karey Walter: Marietta, GA
kareywalter.com
______________________________________________________
FEATURED PHOTOGRAPHER: David Morris Cunningham


First Steps Along a New Path © David Morris Cunningham
First Steps Along a New Path was made in February 2008, in and around Santa Fe, NM. At the time I was making my living doing event work on weekends. My personal photography had stalled, and I knew it was time to take a proactive approach to my situation. During the following weeks I browsed the web searching for answers, spending far more time than I did making pictures. Eventually I came upon the Santa Fe Workshops. I had moved to Woodstock, NY the year prior, so a workshop titled 'Zen and the Art of Photography' with Douglas Beasley seemed to be an obvious choice. During the first day of the workshop I felt totally out of my comfort zone. The images I made were nothing more than a prolongation of my current work, made in a different location. That evening I took a long walk to try and sort things out. I returned to my room knowing that I was indeed at the place I needed to be. I'd come to the conclusion that my problem was the result of not allowing myself to let go of the ideas and actions I'd so stoically been relying on, and to trust that if I did let go something new would replace them. On the second day I consciously changed my approach. I began working in square format, I forced myself to make images as minimalistic as I could, and I slowed my pace so as to not pass by a photograph waiting to be made. The images I produced during the remainder of the week fed my spirit. I found myself on a new path, at the beginning of a journey that would soon become a lifestyle. ■  —David Cunningham
 ______________________________________________________
EMERGING PHOTOGRAPHER: Asri Bamadhaj
@asri.bamadhaj.photography
- Interview by Elizabeth Flinsch
© Asri Bamadhaj
I got to know Asri while we traveled together in Cambodia on an incredible photography adventure hosted by Fox Darkroom and Gallery, based in Melbourne, Australia. I was captivated by his gentle unassuming manner as he diligently worked with his subjects. His images evoke a quiet narrative through careful composition and powerful contrast. Asri credits Tom Goldner of Fox Darkroom and Farley Webb (@farleyflex) as strong influences and mentors through his growth as a photographer. I am thrilled to showcase Asri's work here and share them with a larger audience.
ELIZABETH FLINSCH: From our past conversations, I gather that you have lived and travelled across cultures and countries. How has this impacted your perspective as a photographer or otherwise?
ASRI BAMADHAJ: Growing up in Singapore, I must admit I led quite a sheltered and comfortable life. Travelling opened my eyes to things that might have previously gone unnoticed. In photography, it is all about having 'the eye' – that is being able to frame an entire story into a single shot. Being privileged enough to travel at a very young age, I started to notice things about people from various cultures and classes.
     I made it my goal to portray the things I noticed through my photographs. I wanted to be able to tell stories to people who weren't fortunate enough to see these things with their own eyes.
I am particularly struck by the images you made in the markets while we were travelling in Cambodia. Can you tell me about how you decided to make them the way you did?
As I have mentioned, I wanted to show people things they might normally miss. I wanted to take the viewer away from the regular tourist frequented areas and scenes, and instead give them insight on the daily life of a local.
     I felt the markets [of Siem Reap, Cambodia] were a good place to showcase this. As you can imagine, the markets are brimming with various activities and characters. To be able to capture all of this, I decided to go with a series of wide shots. In doing so, I gave the viewer a chance to get lost in the image. Everything from the bartering older ladies, to those deep in concentration while prepping their wares.
In what way do you experience photographing pictures while travelling differently from when you are at home?
I would have to say the biggest difference while travelling is the fact that I have one, and only one chance, to record the moment in the way I envisioned it. At home I am spoilt with luxury of time and the window to fail and experiment. Perhaps, this is part of the thrill – working under pressure gives me that extra drive.
Where or who do you look to for inspiration?
Being lucky enough to have been born into this era, I am spoilt when it comes to inspiration and muses. The Internet is never short of beautiful images of everyday places and people. I would have to say much of my inspiration comes from other amateur photographers who share their work on platforms such as Instagram.
     As for the high contrast and dramatic feel I enjoy using came when I saw Farley Webb's shots from Montblanc. Although the nature of the shots came primarily from the weather conditions, I felt it gave the images a sense of depth and power that I have taken great pleasure in recreating with my own shots.
What is next for you?
I have been able to photograph in several countries in a way the naked eye might not necessarily notice. I would very much like to be able to do this in my own country, Singapore. Often seen as a concrete jungle, I have been faced with difficulty when it comes to capturing the beauty of the country. However, I would like to see this as just another challenge – to portray my own country through fresh eyes. ■
______________________________________________________

ARTIST SPOTLIGHT: Wayne Levin
waynelevinimages.com

Akule Pinwheel © Wayne Levin
I first met Wayne Levin when he was living and working on the Big Island of Hawaii. His black and white underwater photos, made on film, moved me in way no other underwater photography had before. It opened my eyes to a world I had never visited, not even in my dreams. This simple yet complex image of a school of fish completely mesmerized me and never left my psyche. I see it as a beautiful swirling mandala, so infused with life. ■ —Douglas Beasley / Publisher