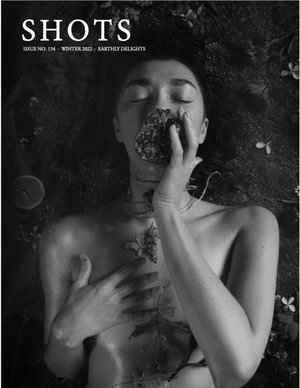 No. 154 - Winter Issue 2022 : EARTHLY DELIGHTS
Sale price Price $10.00 Regular price
Thank you SHOTS SPONSORS!


FEATURED PHOTOGRAPHER: Holly Wilmeth [Link]
ARTIST SPOTLIGHT: Jess T. Dugan [Link]
Artists featured in this issue

3 Nargis Akhrorova: Dearborn, MI
4-5 Dana Ball: Orlando, FL
danaballphotography.com
29 Ken Bloom: Duluth, MN
kenbloomphoto.com
36-37 André Buenacosa: Portland, OR
andrebuena.com
13 Sarah Bultitude: Queenstown, New Zealand
shotsbysarah.com
11 Max Cooper: Candler, NC
maxcooperphoto.com
24 Laura D'Alessandro: Cleveland Heights, OH
clevelandartistregistry.org/artists/laura-dalessandro-photography2
31 Alexander Diaz: Saint Augustine, FL
alexdiazphoto.com
14 Rebecca Dietz: San Antonio, TX
rebeccadietz.org
7 Ron Evans: Charlottesville, VA
38 Jo Fields: Nashville, TN
jofieldsphotography.com
26-27 Gail Fischer: Needham, MA
@alwaysgail
12 Sharlene Holliday: Langhorne, PA
bc Michaelann Kelley: Cincinnati, OH
43 Katelyn Kopenhaver: Miami, FL
katelynkopenhaver.com
1 Matthew Kraus: Brooklyn, NY
matthewkrausphotography.com
15 Prescott Moore Lassman: Washington D.C.
@lassman_lenswork
23 James Lattanzio: Monclair, NJ
jameslattanzio.com
17 Steve Levinson: Rochester, NY
levinsonphotography.com
c Rob Linsalata: Erdenheim, PA
thenocturnalist.com
28 Jennifer MacNeill: East Petersburg, PA
jmacneillphotography.com
16 Julia C. Martin: Phoenix, AZ
juliacmartin.com
34 Lori McCurdy: Centennial, CO
@loriamcc
6 Sayeed Mehmood: Columbus, OH
smphoto.com
32, 35 Kate Miller-Wilson: Hanover, MN
katenearyphotography.zenfolio.com
20 Emily Passino: Nashville, TN
emilypassino.myportfolio.com
18 Jonathan Piret: Buffalo, NY
@jppierre
9 Lori Pond: Los Angeles, CA
loripond.com
8 Abby Raeder: Weston, VT
abbyraeder.com
19 Matthew Ragen: Seattle, WA
mattragenphotography.com
22 Alicia Sangiuliano: Newfield, NY
aliciasangiuliano.com
39 Joshua Seiden: Brooklyn, NY
joshuaseiden.com/photography
25 Jennifer Simonson: Minneapolis, MN
jennifersimonson.com
25 Leland Smith: Darien, CT
lelandsmithphotography.com
30 Priscilla Spencer: Dallas, TX
priscillie.com

42 Donna Wesley Spencer: Hillsborough, NC
donnawesleyspencer.com

33 Graham Stewart: Longmont, CO
grahamstewartphoto.com

21 Jiabao Sun: Norcross, GA
sunjiabao.com

40 Rebekah Teague: Minneapolis, MN

10 Helen Whittle: Molong, NSW, Australia
helenwhittlephotography.com

41 Ritch Winokur: Newburyport, MA
ritchwinokur.com

41 Michelle D. Wise: Nashville, TN
michelledwise.com
 __________
FEATURED PHOTOGRAPHER: Holly Wilmeth

Interview by Douglas Beasley  

All Images © Hollie Wilmeth
DOUGLAS BEASLEY: How did the Sacred Oracle Deck project come about?
HOLLY WILMETH: Three years ago I was spending a season in the small beach town of San Pancho, Mexico, with my husband and young son. I started collecting seeds, unusual found objects, bones, searching for inspiration as I could feel my desire for a project arising. I remember singing to my son when I put him to bed at night about our earth, thanking all the plants, the landscapes, the animals -- everything surrounding us. I had recently taken a class on herbal medicine with Alison Bastien and had become increasingly aware of the deep wisdom in the nature surrounding me. And so this project slowly awakened first in the form of simple necklaces I put on children, made from the seeds and plants I was collecting.
When I returned to my home in San Miguel de Allende, Mexico, I started imagining not just necklaces, but larger pieces covering bodies, the way the jacaranda covers the town in soft lilac when it's in season. I soon realized that I wanted to portray the deep connection between the nature surrounding me and our human nature. The portraits I began to photograph were conceived by listening to my intuition and observing what was blooming and fully vital at the moment, and then engaging a model who best corresponded to that plant's energy. As I photographed more images I could see the sacred dance of the project opening and evolving, and I realized I wanted this to be a collaborative effort, a combination of fine art photography, botanical illustration, practical application, and inspirational wisdom. A project that could take the form of a book, a card deck, or both. I thought to myself, what if all plants have medicinal properties, even those that appear to be simply decorative? What if through this journey I could learn the names of the plants I'd grown up with, from Guatemala, to both coasts of the United States, to Mexico? The project was birthed out of a curiosity and desire to teach my son about the plant life he was seeing all around him and the importance of caring for our planet.
 I didn't go out of my way to discover or come across any of the plants, trees, and flowers in the deck. On the contrary, all of them are very common and can be found in our gardens, on walks, on the side of roads, in empty lots. I began photographing in the Mexican desert and then in tropical climates and then moved to more forested northern climates. It's a project that I photographed for a year and a half in the places I visited almost like a simple seasoning cabinet.
How involved are you in the process of costuming your subjects? Do you create the costumes?
Yes, I have made all the sculpture plant pieces, put them on the person, and then photographed them. In almost all cases, I had no idea exactly what I would be making. It was almost like free form, guided by observation and how best to exhibit the flower or plant. All the models in the series but 2 or 3 people are dear friends and family, and I photographed most of the images in 2019. In many ways it's a sort of diary of my families life and those we spent time with from 2018–2019. The subjects helped make their costumes, and many of the head pieces were made on an old bicycle basket I found in a trash and then converted into a sort of "helmet". The pieces would last anywhere from 5 minutes to 30 minutes and then I would take it apart and put back in nature to decompose.


How much say do your subjects have in what they are wearing or what they become?
There were a few subjects who actually presented their own plants primarily out of curiosity in showing me what they had just come across. Some people shared with me what was blooming, and lead me to some of the plants. However, the people photographed didn't have much say, as the main idea was to allow the plant to be the center piece and the human form a facilitator. It became interesting though because each piece has felt that it was a very appropriate plant for the subject, as though they were guided to each other and I became the bridge.

Is there a 'higher message' you are trying to impart upon your viewers?
I always ask myself when possible, what am I trying to say with the images I am creating? I believe art can be a tool for bringing awareness and used for asking questions about all sorts of subjects. Two years ago I read Robin Wall Kimmerer's book, Braiding Sweetgrass. It's a book that has transformed the way I want to live with all that surrounds me, and it gave me a deep understanding for living in the spirit of 'reciprocity' with nature. One of my favorite quotes of hers is this: "Knowing that you love the earth changes you, activates you to defend and protect and celebrate. But when you feel that the earth loves you in return, that feeling transforms the relationship from a one-way street into a sacred bond." This project, Sacred Nature, is my way of wanting to invite the viewer to understand how important planet earth is, how closely we are all interconnected.

What have you learned from the process of creating this unique project?
Oh gosh, so so much. Putting something out into the world like this, even if on a small scale, is a big deal. I didn't realize how much work it would be quite honestly. But I was working 40 hour weeks from when I decided to move forward to making a deck in January till August making sure everyone has received their decks and prints.
Two things that were important I believe in the success of this deck were that I worked with an amazing team, from the printers to the designer to everyone involved. I also made sure to commit to having a successful Kickstarter and spent hours researching and talking with different people, fine tuning it, and saying yes to everything that needed to get done in order for the project to succeed. I am so grateful to my husband and all of our friends that supported me, us, in listening, suggesting, and helping with our son so that I could have the time to create this. ■
__________
ARTIST SPOTLIGHT: Jess T. Dugan

 Image © Jess T. Dugan
I am consistently moved by the way in which Jess' photographs narrow the distance between the subject and the viewer. Here, the direct gazes of Corinne and Travis act as an invitation to truly see the subjects' whole authentic selves in a manner that makes us as viewers feel fully seen in return. This photograph is an early one and I see it as a portal to their future work leading up to their book... Their pictures still have something I see coming forth here – a softly stark honesty that elicits the viewer's compassion; a compassion that clears the way for acceptance and social change. ■

jessdugan.com
—Elizabeth Flinsch