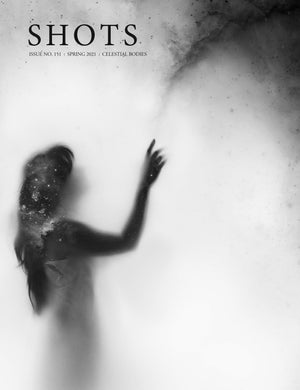 No. 151 - Spring 2021 : CELESTIAL BODIES
Sale price Price $10.00 Regular price
Thank you SHOTS SPONSORS!

FEATURED PHOTOGRAPHER: Dianne Bos [link]
ARTIST SPOTLIGHT: Paul Caponigro [link]

CONTRIBUTORS:

cover Sarah Treanor: Akron, OH
streanor.com
back cover Andy Hann: Culver City, CA
andyhann.com

page 19 Brenton Ayers: Glendale, CA
@steadiaye
10 Janet Bayliss: Minneapolis, MN
14 Kirstin Naomie Broussard: Berlin, Germany
kirstinnaomie.de
17 Odette Chavez-Mayo: East Hampton, CT
odettechavezmayo.com
23 Cathy Cone: East Topsham, VT
cathycone.com
9, 34 L. Andrés Esteban: Cuenca, Spain
landresesteban.com
1 Jo Fields: Nashville, TN
jofieldsphotography.com
20 Natalie Finney: Seaford, VIC, Australia
nataliefinney.com
33 Jeff Greer: Timonium, MD
photojg.com
7 Terry Gydesen: Minneapolis, MN
terrygydesen.com
30 Julie Hamel: Loudon, NH
juliehamelphotography.com
4-5 Jeannie Hutchins: Camden, ME
jeanniehutchins.com
11 Cindy Konits: Owings Mills, MD
cindykonits.com
32 Connie Lowell: Hooksett, NH
connielowell.com
11 David McCarthy: Portland, OR
sanslartigue.com
39 Jim Miller: Brandon, FL
15 Kate Miller-Wilson: Hanover, MN
katenearyphotography.zenfolio.com
6 Elle Moss: Saline, MI
36 Anders Nilsson: Göteberg, Sweden
andersn.se
38 Kitt Patten: Tillamook, OR
27 Azul Pinochet-Barros: Guanajuato, Mexico
@azulpinoba_photography
40 Danielle Quenell: Seattle, WA
daniellequenell.com
28 Mila Reynaud: Los Angeles, CA
@milareynaud

37 Jeff Rooney: Portland, OR
@jeff_rooney
22 Josh Rose: Venice, CA
joshrose.photography
16 Rebecca Rothey: Laurel, MD
flickr.com/photos/rebeccasrecipes
8 Josephine Sacabo: New Orleans, LA
josephinesacabo.com
24-25 Mark Sluder: Huntersville, NC
@marksluder
12-13 Ken Tannenbaum: Catskill, NY
kentannenbaum.com
3 Manuela Thames: Saint Paul, MN
manuelathames.com
31 Robert Treat: San Diego, CA
roberttreat.com
18 Marko Umicevic: Zagreb, Croatia
inavoidanceofreality.com
41 Robin Vincent: Ann Arbor, MI
26 John Wagner: Phoenix, AZ
wagnerphotographs.com
29 Mitch Weiss: Putney, VT
mitchweiss.com
35 Ken Weissblum: Fort Lauderdale, FL
metaphotography.com

21 Gary Zuercher: San Clemente, CA
garyzuercher.com
FEATURED PHOTOGRAPHER: Dianne Bos
Interview by Elizabeth Flinsch

ELIZABETH FLINSCH: What is it about the pinhole camera that keeps you coming back to it over time? Was there a certain moment of discovery for you?

DIANNE BOS: The turning point for me came as I made my very first pinhole photograph. It was in 1978. It wasn't just that I had made a photo using a cardboard box that blew me away, but that the process was so intriguing. I made a simple camera that could capture time. My arm hairs stood on end. I had an epiphany. How often does that happen?

In art school I majored in painting and sculpture. I had been turned off of photography, mostly because the decisive moment was really being stressed. I felt limited by making images with the cameras we were asked to use. The tyranny of the 35 mm SLR. A moment frozen in time was not how I saw the world. I wanted to break out of that box so to speak and instead I broke into a box.

I was interested in the work of Joseph Cornell, an American surrealist artist who used found materials to make poetic art works in boxes. In art school I was also making wooden boxes with little dioramas inside. Then one day I saw another student leave the dark room with this strange wooden contraption and I asked him what it was? He said "it's a pinhole camera" and I said "you can make a camera? Why didn't someone tell me?"

I didn't make a pinhole camera until I graduated and got an art gallery job. It was a terrific job. I was on my own all day. I turned one of the basement rooms into a dark room and made my first clunky cardboard box camera. I had no idea how long to expose the first image. Things weren't like today where one can look that up on the internet. So I made an educated guess. It was foggy day I placed the box on a window ledge looking into this beautiful park and exposed it for about 15 minutes. Cue up darkroom scene from a movie. Red light. Agitating photo paper in developer tray and, "Whoaaa…" this magical image appeared. It was more like a drawing, an impression, a memory. It was a passage of time. Trees were softened by the wind. Passersby disappeared. A lone garden statue draped in mist watched time pass as it did everyday. Light leaks and developing imperfections said "this isn't just an image it's an object."

In an instant I knew I could experiment with this process for a very long time (now over 40 years).

What else has influenced your photography?
In the 80s when I was first really experimenting with the pinhole camera I was also playing, singing, writing music in new wave bands. I always had an image in mind when writing songs. The average exposure time of my first pinhole images were around 3-5 minutes so the length of a pop song. I saw them as songs and songs as images.

At that time new technology was transforming music. On one hand I embraced the digital to make music but shunned it to make my photographs. So it wasn't because I was a Luddite that I became very interested in pinhole 'technology'.

Can you talk about your work around stars and galaxies? How did you get the idea of a multiple pinhole image and what was it like making that discovery?
I had always been interested in astronomy. I belonged to an astronomy club and like many people had a telescope and enjoyed looking into the night sky. I was always trying to fit ideas about time and space into my artwork. As an artist photographer it was very unlikely I would ever travel in space so I started thinking about how to create a multi aperture camera where each hole would represent a star in the night sky. I collected Hubble telescope galaxy images and photos of the Milky Way. I'd transfer that image onto a metal plate and punch a hole for each star, the hole size depending on the brightness of that star. The tricky part was how to make an image without totally over exposing the photo paper or film. Imagine having a camera with a hundred + lenses photographing simultaneously onto the same frame [see image at right]. A pinhole aperture is more like f128 than f8 so you do have the advantage of less light entering the device but this was the tricky part.

The subject matter for this series was light. Each exposure is of only one light source, whether that is a candle, light bulb or a television set, but through the properties of light and the pinhole, a galaxy of images is created. At first glance these images appear as just another grouping of star light. Upon closer inspection the source of light is recognizable.

I am struck by your images of buildings, both inside and out. They have a haunted feel to them. Can you tell me about how you approach photographing architecture and manage to show the spirit of the place?
A pinhole camera is like a little room and this lends itself to photographing bigger rooms. I think of the rooms I photograph of being camera obscuras. That might sound like a joke but there's something about the passage of time in those spaces, the way light enters a window or a crack in the door and creeps across the floor like a sundial. In my images you sense this passage of time even if you don't know it's a long exposure pinhole photograph. You feel the volume and space maybe because of the infinite depth of field you get with a lensless camera.


There's also an intimacy when you feel you're the only person in that space. Even if people are there in the room I know they will disappear or become ghosts. You learn to observe like your camera. The softness of focus leaves room for your imagination to settle into that space, that image. The spaces are more dreamlike and more the essence of the place. A critic (a reviewer) once said my interior images are like that tenuous image you have of a room when you've just woken up.


I'm attracted to tourist destinations that have been photographed a million times, that are now called Instagramable (ugh). In the dreamy time it takes me to take one photo I'll watch dozens of people take 'the shot' and move on, never really looking at what was in front of them. So the viewer is very familiar with the location but not this impression of it.

I like the long exposures. They make me really look at what I'm photographing and what might happen over the next 3-30 minutes in that space. Will a person stand in front of the camera? (yes). Will a car run over the camera? (not so far). Will the wind blow my camera away? (Yes, more than once). Will someone kick the camera? (I take many shots from floor level). Remember I don't have a viewfinder so I can stick my camera anywhere. I don't have to have it in front of my face. So you have to learn how your camera sees things.

When I use cameras that use photo paper for negatives the images are super contrasty. Photo paper is designed to be exposed by an enlarger light bulb not daylight, so subjects like buildings with strong graphic elements and contrast work very well.

When I figured out how to make a more portable pinhole camera I started using it to photograph in Europe in the early 1990's. I still used paper negatives so I had to use a large dark bag to switch out the paper after every shot. This took some finagling so I usually took only one photo per day. In 2000 I bought one of the first Zero pinhole 120 film cameras and this had a huge impact on what I could photograph. With film my exposures weren't so long so I could shoot inside. It also enabled me to photograph in colour.

Do you see any new projects on the horizon for you? Are there any places you've been wanting to visit or any photographs you look forward to making?
From 2014-2016 I worked on a series called "The Sleeping Green: No Man's Land 100 years later which explored the scarred landscapes of WW1 battlegrounds in Belgium and France. I was inspired to document this landscape after a visit to the battlefields of Vimy Ridge. My pinhole work reduces the living to ghosts but here was a truly haunted landscape. For that body of work I used a variety of darkroom tricks including the photogram technique where I placed objects significant to the location on the photo paper while I was exposing the images in a colour darkroom. The actual process of making the images was almost shamanistic.

I'm using some of these darkroom techniques I developed for a new series exploring botanical and biodiversity gardens in Canada and Europe. This new body of work uses analog photographic processes to explore contrasts and echoes between the designed worlds of botanical gardens, biodiversity gardens and the natural environment. My use of low tech photographic technologies prevents this from becoming a strictly documentary project, since these techniques heighten the dreamlike, magical or even chimerical quality of my work, sometimes seeming to make the invisible visible. ■

__________ 
ARTIST SPOTLIGHT: Paul Caponigro
Running White Deer, County Wicklow, Ireland, 1967 © Paul Caponigro
This photo, by legendary photographer Paul Caponigro, represents for me many concepts I struggle to get across in my teaching: being open and receptive to what presents itself to you, being ready for the gifts of the moment, and embracing impending darkness. It is a prime example of spiritual metaphor. Look for an interview with the charming and engaging legend in an upcoming issue. ■
 —Douglas Beasley